Skiing Out Of Bounds In The Austrian Alps: No Rules, Big Terrain, Big Risks
One of the attractions of skiing in Europe is the near-total lack of rules, a Wild West atmosphere toward risk and personal responsibility that may be surprising to Americans who view European governments as overbearing and paternalistic. In Europe you can ski pretty much anywhere but the trees, which are considered wildlife preserves. No one will yank your lift ticket for doing something stupid and dangerous, and in fact no one seems to be paying any attention.
That can be good and bad. Avalanches are just as deadly in Europe as in North America, and in snow-heavy, super-steep areas like the Austrian Alps the risk of avalanche is constant. Every year 90 to 110 people die in the Alps in avalanches, most of them skiers who ventured off-piste. So if you're smart, you hire a guide. It's not a safety guarantee: My guide on a trip to St. Anton last February repeatedly warned me that even an avalanche risk of one on the five-point scale is still a risk. But guides are interested in keeping themselves alive, and they have a lot more experience judging snow conditions than a first-time tourist.
Many guides have seen or been caught in at least one avalanche and have specific training to identify higher-risk conditions such as wind-blown powder lying on top of slick, hard shell snow. When the guide skis a steep slope in front of you, he's not just showing you the way. He's probing the snow with his skis and poles and sometimes even intentionally triggering a small avalanche to see what happens. More than one guide has died this way. When he lets you ski first, he's probably more concerned about helping you reassemble your gear after a wipeout.
The reason I am getting avalanches out of the way first is because they are an omnipresent threat in the Alps, a risk worming its way into your brain even when you're carving through perfect powder on a base that has the feel and firm rebound of an expensive orthopedic mattress. You can't escape this risk entirely on the off-piste, but you can play the odds. If the punch of adrenalin and experience of going where few others ski is your thing, there is no substitute for leaving the marked trails and heading into untracked snow. Just don't do it alone.

This warning in Stockmahd is more than skiers can usually expect at the boundary line in the Alps. Credit: Dan Fisher.
The Austrian resort of St. Anton am Arlberg is a perfect place to experience guided off-piste skiing. It's huge, with more than 100 square miles of groomed terrain and more than 75 square miles of off-piste within the ski area's boundaries. "Ski area" is a misleading term, actually: The Arlberg region covers seven different ski areas linked by a network of cable cars, high-speed chair lifts and the occasional T-bar. It's possible to ski from one end of the Arlberg to the other, from Rendl to Zürs to Warth, but the trek will chew up an entire day and requires long rides on gondolas to clear some of the passes.
Better to concentrate on one of the main areas and venture off only for better weather or variety. St. Anton is the Vail of the region, a sizable town on the rail line between Zurich and Vienna, less than three hours from Zurich airport. It's also home to two of world's most infamous apres-ski bars, Mooser Wirt (roughly, the host of the Mooser neighborhood, Moos meaning moss) and Krazy Kangaruh. Both are a short, steep ski run above the town, leading to many accidents as drunken apres-skiers attempt to navigate what becomes a slick plate of ice by the end of the day. (For that reason Mooser Wirt now closes at 8 p.m. Even with those constricted hours it reportedly sells the most beer per square meter of any bar in Austria.) For a trip back to a Tyrolean version of Tom Jones/open collar/big hair '70s partying, stop in. If you don't like drunken crowds, give both of them a pass.
Further into the hills are St. Christoph, Stuben and Zürs. St. Christoph is impossibly cute, a tiny village surrounded by snow-draped peaks like the set in a Disney movie. Zürs is supposedly a hangout for jetsetters and European royalty but viewing it through the windows of the bus to Lech, it looks more like a collection of roadside hotels.
It's possible to ski all the way to Lech in an hour or two, but easier to take the yellow post buses that run regularly between St. Anton and Lech. They have ski racks and large luggage compartments. Just be prepared for a lot of jostling to get aboard at the end of the day, when there's a mass migration between the towns.
Lech is smaller than St. Anton but still stocked with relatively inexpensive hotels garni, the upscale Austrian version of a bed and breakfast. I got a nice single at the Hotel Kristall in the busy late February season for 106 Euros. Like most of these hotels, Kristall offered breakfast with eggs and the usual Alpine fare like cheese and trockenfleisch, the thin dried beef that sometimes comes from a horse. If you're staying in Lech, look for a hotel within walking distance of the main lifts near the post office, unless your place has a shuttle.

Lech is known for its shopping, its views, and, like most of Austria's ski resorts, its après ski activities. Credit: Dan Fisher.
On a five-day trip in late February I only scratched the surface of the Arlberg's off-piste but got tremendously lucky with the weather and conditions. I was able to ski the classic North Face of Valluga twice. At 2,811 meters Valluga is the highest peak in the Arlberg with several well-known off-piste routes accessible by lift or climbing.
To reach the top, you take the 40-person Valluga gondola to a mid-mountain station, which serves the steep groomed trails. The gondola to the summit and off-piste trails is restricted to skiers accompanied by a guide, who must sign in and report the names of their clients before going up. Then you cram into a gondola a little larger than a phone booth and ride to the top. On the way up look to your left for a narrow bridge leading to the West Face ski run. Often there will be climbers with skis strapped to their backs making their way up the steep South Face on foot as well.
Hundreds of guides work the Arlberg region. If possible hire one with the IFMGA certification, which requires advanced training in rock climbing, skiing and back country safety. The biggest guide agency in St. Anton is Schischule Arlberg, formed in 1921 by Hannes Schneider, a pioneer of modern alpine skiing who helped draw British tourists to the Arlberg in the early 1900s for the then-unusual winter season.
I hired a guide from St. Anton Classic, a sort of cooperative for experienced local guides that competes with the larger schools. My guide Andy Tscholl was a local intimately familiar with every trail in the Arlberg, marked or unmarked. (In an earlier era, he told me, the farmers had names for practically every landmark rock or tree up in the high mountain pastures.)
I brought my own AT gear, lightweight Fischer boots and K2 Coomback skis equipped with Dynafit bindings, a complicated German design that allows you to hinge the toe for uphill climbing with skins or click in the heel for conventional downhill skiing. The Coombacks are fat at 104 mm and floaty in powder, but with enough stiffness and edge to ski on any surface including ice.
Since we'd never skied together before, Andy took me on a brief run through some fresh powder to see what I could handle. We ended with a transit across a recent avalanche, picking our way around boulder-sized snow chunks and ice like turbulent river rapids frozen in place. Apparently I passed muster, for he immediately suggested we ski Valluga. I'd never heard of it and Andy didn't volunteer much information. Later he explained that was part of his guiding philosophy; some guides explain everything in advance to their clients, including the steepness of the terrain, avalanche risk and possible terrors they will encounter along the way.
Andy takes more of a need-to-know approach. He acquainted me with my avalanche beacon, which he called a "peeps," and showed me how to run a pyramid-shaped pattern to work my way toward a buried skier. The rest he left me to discover on the slopes. I proceeded with little more than a possibly illogical faith he wouldn't lead me into anything I couldn't handle.
The summit of Valluga has an observation deck with a 360-degree view of the surrounding Alps all the way into Switzerland. Photographs don't truly express the steepness of mountain slopes, or perhaps they express the truth but not the perceived reality when a skier is perched at the top. My helmet-mounted GoPro camera does the exact opposite; it gives the slopes a vertiginous quality, a sensation of imminent peril that isn't quite how it's perceived in the moment, either. Combine the two and that's what the first stage of the North Face of Valluga feels like. It's steep, but manageable if you side-slip until you reach the broader snow field leading to the saddle a few hundred meters below.
We picked our way down to that field and watched as the group in front of us took off. I heard somebody scrape a rock and made a mental note of where it was. Then I started to ski down, with Andy waiting behind. The slope was close to 40 degrees of pitch, challenging but manageable in the calf-deep powder. I made three turns and then felt sickening scrape, the friction of skis on rock, and blew out of both my bindings. Somewhere below the powder there was another rock. I'd hit it straight on.
Video: The author traverses some no-fall-zone terrain, takes a spill, then finds nirvana. Video Credit: Dan Fisher.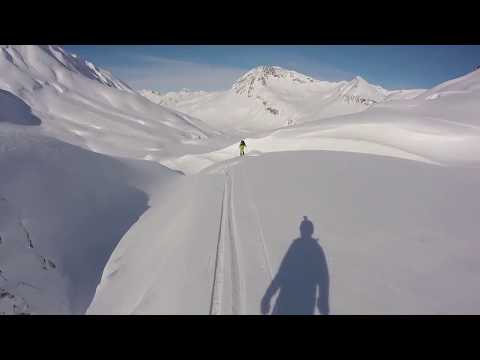 Luckily my skis are light with powerful brakes and stopped dead where the bindings released. But in several feet of soft snow on a 40-degree slope I was finding it hard to maintain an upright position, let alone recover my skis and put them back on. Andy skied up behind me, tamped out a level spot for my skis and helped me click them on. This time he skied ahead, possibly to lay out a path free of hidden rocks. I was shaking from what could have been a disastrous fall and slide over the nearby cliffs. But up on a slope like that there's no solution but to get going again. You point your skis slightly downhill, summon your courage, and make that first turn. Higher intellectual thought will only hurt you. You operate on muscle memory and consciously refuse to think about the possible consequences as you make a second turn, then a third, remembering to look downhill a few yards ahead, keep your uphill arm extended and forward, stand up to initiate the turn, and transfer your weight to the new downhill ski. Like a well-executed forehand in tennis it's a matter of keeping your eyes focused in the right place and following a precise set of leg and upper-body motions to get the skis to do most of the work for you. Done right, a turn in steep Alpine powder has the same rewarding sense of pressure and release as the pop of a tennis ball rebounding off the sweet spot of a tennis racket. My cousin Tod, an experienced backcountry skier, described it this way:
Skiing the heavy stuff has its own peculiar pleasures. The incredible rebound and timing, both requiring patience. Ahh the fun!
The north face snowfield has rocks and cliffs to the right and a boulder field on the left so it's best to stay slightly to the right until you ski through a constricted passage between several small rock outcrops. Then it's a fast traverse to the saddle separating the north face from the bigger and less steep powder fields to the west. The saddle also represents the continental divide between the Tyrol and Voralberg regions, with the great Danube watershed on the Tyrol side and the Rhein watershed on the Vorarlberg side.

Experiencing the bounty of risk management in the Alps can nourish the soul. Credit: Dan Fisher.
The day I skied Valluga the snow past the saddle was a layer of light powder perhaps 3 inches deep on top of firmer snow that somebody described to me as like skiing on Styrofoam pellets. It was fast and unlike, say, the thigh-deep powder in Utah, you didn't have to worry about having to walk out if you let your speed fall below about 20 mph. I followed Andy as he made quick turns across the rolling hillocks, scouting out paths where no one had skied before and changing course rapidly to avoid rocks and gullies. With frequent stops we probably spent at least 10 minutes carving across the landscape until we initiated a long final traverse to meet up with a groomed trail leading back to Zürs.
The conditions were so good we decided to ski Valluga again a second time after lunch. Another option is to ski the west face, accessible by crossing a rickety-looking bridge. I stuck with the devil I knew.
The next day conditions started out sunny but the forecast was for clouds to roll in, reducing visibility and making it hard to navigate difficult terrain. We rode the gondola from St. Anton to the Rendl ski area, which from the valley floor looks like a smaller, perhaps more family-friendly version of St. Anton. There are tame slopes up there, but Rendl also has some of the best and most challenging off-piste skiing in the Arlberg. Again with little forewarning, Andy took me to Hinterer Rendl, an enormous powder bowl to the left-hand side of the gondola looking up. The run into the bowl is difficult for a skier of intermediate skill like myself. After a few turns on a moderate slope you enter one of several chutes leading into the bowl. I made it halfway down the chute before panic set in – something about the snow skidding down the slope faster than my skis made me think avalanche – and I side-skidded the rest of the chute to the exit traverse on the right. Andy was waiting there with a slightly discouraged look.
Once out of the chute the slope flattens to a pleasurable 15-20 degrees, which also happens to be the dividing line below which the risk of kicking off an avalanche with your skis drops precipitously. You can pick your own line in the Hinterer Rendl and return to the groomed slopes early or chase the powder all the way down to the tree line. If you choose the second course, be warned: The final 200 meters of vertical or so was the steepest, nastiest ice mogul run I have ever attempted. Smooth rounded moguls up to 3 feet tall were hard as glass, with the trail narrowing steadily until it ended with a single-track runout snaking through the trees around the mountain until it connected with the main trail down from Rendl peak. Andy calls this mogul field "Diplomacy," perhaps because it takes a lot of skill to negotiate.
The clouds came in as we were riding the gondola back up so I opted to ski the less demanding avalanche gates this time. The powder there was deep and untracked so we skied among the enormous metal gates, which look like World War II tank traps set in meticulous rows high above the town of St. Anton.

Yes, the author got to ski that. Credit: Dan Fisher
By 1 pm I was too tired to ski any more steep stuff. We switched to a conventional lesson on the groomed slopes and I learned and re-learned a lot of tips for turning efficiently and maintaining control at all times, the two keys to skiing steep off-piste trails. One simple trick: You can bail out of any situation by steering uphill. A quick uphill turn will eliminate nearly all your speed, leaving you ready to do an aggressive turn downhill, or on the steepest grades, a jump turn, without entering the death spiral of ever-faster and less-controlled turns that inevitably ends in the trees.
After five hours of skiing I was exhausted and ready to call it quits. My advice to a non-expert skier is to hire a guide for half a day or five hours at most, and if you are hiring a guide over two or more days give yourself a break in between. Untracked, irregular, chunky or deep snow all put far more stress on your body than even the steepest groomed trails. Unless you do this stuff regularly, plan on hitting the wall sooner than you expect.
For a mellower off-piste experience try some of the powder runs above Lech. Stockmahd to the left of the Steinmahder lift going to the summit of Zuger Hochlicht was excellent while I was there. Take the highest traverse which begins right below the chair lift terminus. Look for the landmark below to make sure you are on the right traverse. If you stay on the high route all the way around Zuger Hochlicht you will eventually see another huge snowfield with many possible routes. If you want to get back on the Zuger Hochlift bear left as you ski down. Eventually you'll find a series of traverses all leading to a point where there is a short side-stepping climb to reach the base of the lift. I avoided the runs to the right as there was a nasty-looking crack developing up high that looked suspiciously like an avalanche trying to cut loose. I'd hire a guide to explore that part of the mountain.
St. Anton von Alberg main site: Good for overview, arranging accomodations, checking weather: St. Anton Site
Skischule Arlberg : +43 5446 3411 www.skischool-arlberg.com
St. Anton Classic: +43 5446 3311 http://www.stantonclassic.com/en
Piste to Powder: +43 664 1746282 http://pistetopowder.com/
Skischule Lech Arlberg: +43-5583-2355 http://www.skischule-lech.com/en/home
Dan Fisher is an award-winning, veteran journalist (staffer at Forbes, Bloomberg, Dallas Times Herald and Houston Post) with a passion for sailing and skiing steep faces in strange places. Find him on Twitter here.